INNOVA Architects was first founded in 2010 by CEO Paul McCormick, and in 2011 incorporated as INNOVA Architects Inc. The vision for INNOVA has always been to be a full-service design firm providing Architecture, Civil Engineering, Structural Engineering, Planning, and Design.
Government - Department of Defense

Industrial Warehouses, Distribution, and Manufacturing

Senior Housing and Continued Care Retirement Communities

Commercial – Retail Projects to Office Buildings

Recreational Spray Parks, Aquatics, and Pools
Each of these specialized areas is serviced by an INNOVA Principal/Leader, and a team of staff who dedicate their careers to knowing everything about that particular area of design and development. This way, INNOVA maintains the ability to build strong relationships between its clients and staff, and allows continuity with projects, the entire team, and stakeholders over a long period of time.
INNOVA has grown organically on its own since 2010, through building relationships with government organizations, business owners, contractors, developers, brokers, and many other affiliated groups. INNOVA has also grown through mergers/acquisitions of other firms.
INNOVA's history is therefore a compilation of not only its own organic life, since it began in 2010, but also those histories that come with the INNOVA Principals from their prior firms and careers. Below are some of the histories of the companies which have joined INNOVA, or for those that were prior firms of the INNOVA Principals.
INNOVA Architects was first founded in 2010 by CEO Paul McCormick and in 2011 incorporated as INNOVA Architects Inc. The vision for INNOVA has always been to be a full service design firm providing Architecture, Planning, and Civil & Structural Engineering.
PAUL McCORMICK, PE, SE - CEO
Paul McCormick founder INNOVA in 2010. Prior to forming INNOVA Architects, Paul McCormick was CEO and Founder of a prominent engineering consulting firm in Tacoma named AHBL Inc. Under Paul's leadership AHBL grew from having a staff of 30 people to employing over 150 professional designers, planners, landscape architects, surveyors and engineers, generating over $20 million dollars annually in revenues and providing services on half a million dollars of construction projects annually. In 2007 Paul sold his AHBL ownership in order to form INNOVA Architects. Today Paul continues to set vision for the future of the firm.

JAMES TSANG, AIA, NCARB - PRESIDENT
James Tsang joined in 2011. James C. Tsang AIA began his architectural practice in Tacoma in 1979 as Harris, Reed Litzenberger and Tsang. In 1985, Jim formed a 65-person practice as The Tsang Partnership with offices in Tacoma and Seattle. He relinquished his interest in The Tsang Partnership in 1999 to BCRA architects. In 2011 Jim joined INNOVA Architects as President and today is involved in establishing the vision for the firm, providing leadership to establish INNOVA Architects as a prominent Architectural Design Firm in the region. For Jim's professional experience visit LinkedIn
GEOFF ANDERSON, AIA - PRINCIPAL
Geoff Anderson, previously with ORB joined in 2015. ORB Architects began in 1964 as Olson, Richert and Associates, and in 1970 incorporated as ORB Architects, Inc. For over 50 years, ORB Architects developed expertise in Department of Defense work, as well as Parks & Recreation and Aquatics facilities. Principal Geoff Anderson, AIA, led the ORB Architectural work since 1995, having specific interest and expertise and Parks & Recreation, Aquatic Facilities, and Multifamily Housing. Today, Geoff Anderson is INNOVA's Principal in charge of Parks & Recreation, Aquatic Facilities, and Multifamily Housing.

MICHAEL WAGER, AIA, NCARB
Michael Wager is a highly specialized architect to the health care industry. His major emphasis is on state-of-the-art licensed ambulatory surgery facilities and diagnostic imaging facilities with a secondary emphasis to include laboratories, physicians' offices, and professional buildings. Providing services in areas such as new facility design and planning, site analysis, code analysis; master planning, construction documents, and administration. Michael Wager is INNOVA's Principal in charge of Medical Facilities and Planning, covering virtually every medical specialty.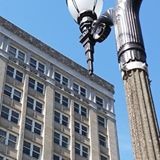 Commerce Building
950 Pacific Avenue, Tacoma, WA
SERVICES

Architecture

Engineering

Planning

Design
JOHN PATTERSON - DIRECTOR

John Patterson joined in 2015 and brings over 50 years of accumulated military engineering and project administration experience to our team. His background includes 23 years active duty in the U.S. Air Force Engineering Division, during which time he was involved in design, planning and programming construction projects in areas such as Alaska, Vietnam and Europe, as well as all over the U.S. His experience with military clients has included management, design and construction supervision for I.D.I.Q. contracts at both Fort Lewis and McChord AFB (now JBLM) over more than 30 years. More
DALE YEAGER - DIRECTOR

INNOVA Architects added Dale Yeager to its highly qualified team of professionals IN 2015, as Director of Planning. Prior to joining INNOVA Architects, Dale Yeager was Principal and founder of Yeager Associates, Land Use & Planning. Ms. Yeager has 30 years of Public Sector and Private Sector experience as a land use planner specializing in shoreline permitting and SEPA (State Environmental Policy Act) and NEPA (National Environmental Policy Act) in the State of Washington. Her previous public sector experience includes SEPA Official and Shoreline Planner for the City of Tacoma, SEPA officer and Land Use Planner for Pierce County, and Comprehensive Planner for Thurston Regional Planning in Olympia. Her private sector experience includes Senior Project Planner at AHBL Engineering in Tacoma.
BRIAN LUDWIG, LEED AP - DIRECTOR
Brian Ludwig has worked with INNOVA's CEO Paul McCormick for over 15 years on many projects and specializing in site planning of distribution centers and tenant improvements for industrial developments. Brian manages all aspects of the project, including site master planning, overseeing structural and civil engineering issues and coordinating with subcontractors, permitting agencies, and design consultants. At INNOVA, with Paul McCormick PE SE as Senior Project Engineer, Brian has led the design and construction of over 2.5 million square feet of building, hundreds of millions of dollars in project cost, and thousands of master planned acres. Brian is LEED certified.